Welcome to ICPL


History - Cont'd from Page 1
ICPL - besides years mentioned above, huge volumes were concluded in the preceding years. Together with SABIC and ICPL Professional Staff Backup (Both Polymers via in depth Technical knowledge and Bulk Chemicals via in depth Commercial, Logistic per Shipping and Tank Terminal Storage Handling), we together became (No.1) in Pakistan in all aspects. From January (Y2015) SABIC has opened their Office in Pakistan.
ICPL - started in (Y1998) via inter-alia International Distributors (Pvt.) Ltd., formed in (Y1980) and earlier being a partnership concerned established around (Y1968), was very heavily involved with People Republic of China for various Products where not were only acting as Exclusive Representative House but were also having Distribution Channels for Chemical, Polymer and Other Products + Warehousing Facility to End-users including involvement in Tender Business Participation in Pakistan. Here also our Company was Representing the Top Companies in P.R. China and the volumes for Pakistan through us were in the very high range.
ICPL - inter alia International Distributors (Pvt.) Ltd., other business done for various Products per Suppliers from (Norway)/ (United Kingdom)/ (Turkey)/ (Germany)/ (South Korea)/ (Singapore)/ (Thailand)/ (India)/ (Japan)/ and (USA). Some of the details given below: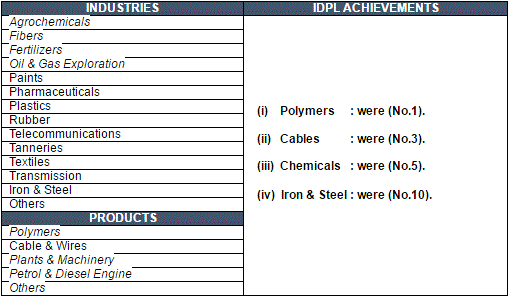 ICPL - has planned (9) SBU's, where now further activating SBU's via (i) Oil & Gas (LPG/LNG/ Fuel Oil/ Diesel Oil), (ii) Iron & Steel (Hot and Cold Rolled Coil/ Sheets, Galvanized Sheet and Billets).
ICPL - while maintaining its traditional role of Representation House - is actively planning to expand into Distribution of Chemicals and Plastics raw material and allied products to End-users -yet another service to the industry. Warehouses and infrastructure is available at all major cities, thereby fulfilling Customer's requirements at their footsteps - i.e. Plants. Also expanding via Sectors - Pharmaceuticals Raw Material ---> Agro-Chemical, and Pesticides ---> Fertilizers plus Trading Sector.
ICPL - directly or through their sister concern are planning Chemicals + Plastics Downstream Projects. Major investments are being planned for further diversification including Bulk Chemicals Terminals + Plastic raw material Warehousing Centers. These projects are intended to help consolidate and improve the existing market share of the company as well as to meet the increasing demand of the Pakistani industry.
ICPL - commitment to excellence, combine with the capabilities of its Professional Personnel, assures clients of perfect support in the execution of all business transactions, and Customers satisfaction - thereby keeping you ahead doing business with around (500) Customers. ICPL have offices across the country (Karachi & Lahore) including earlier in (Islamabad / Peshawar and Associate Office in Faisalabad).